History
The Kapelle (German for Band) can trace its beginnings to the early 1950's as a small ensemble called the "Frohsinn Schrammelkapelle" formed to accompany the "Dallas Frohsinn Singing Society." The Singing Society itself, also known as "Gesangverein Frohsinn" was formed in 1877 to help preserve German song, language and culture in Dallas. The original members of the Kapelle were also members of the Singing Society.
In the early 1980's, it evolved into a full-sized Band called the "Frohsinn Kapelle". It was then organized as a non-profit entity independent of the Dallas Frohsinn Singing Society.
In addition to becoming a staple at the annual Addison Oktoberfest and playing at several venues in the Dallas Metroplex, the Kapelle has made four successful concert tours to Germany and Austria. The Kapelle has also hosted several groups from those countries.
Frohsinn Kapelle has approximately 35 Active Members who meet for practice once a month.
Instrumentation
Woodwinds:
Clarinets
Flutes/Piccolo
Saxophones

Brass:
Trumpets
Flugelhorns
Trombones
Euphoniums
Tenor Horns
French Horns
Tubas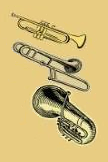 Percussion:
Drums